R.C. Essential Oil
Take a deep breath and let's chat about R.C essential oil. You will be happy to find the red bottle of R.C. essential oil blend in your Premium Starter Kit! This blend will be enjoyed by both the children and adults living in your home and is a great blend to diffuse through the Winter months.
R.C. essential oil has a fresh and invigorating aroma and is a powerhouse blend with 10 individual oils making up this signature blend. Cypress, Spruce, Myrtle, Marjoram, Pine, Lavender, Peppermint, Eucalyptus Globulous, Eucalyptus Radiata, and Eucalyptus Citriodora combine for natural respiratory comfort.
R.C. Essential Oil Uses: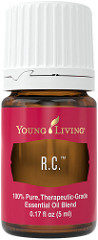 Rub on your chest and back of the neck before an early-morning workout.
Apply to the bottom of feet and chest at night to support easy breathing.
Add R.C. essential oil to a bowl of hot water, then place a towel over your head and inhale the steam from the bowl.
Add R.C. with a carrier oil like V6 vegetable oil to create a spa-like, soothing atmosphere with massage.
Diffuse to create a comforting aroma for your environment.
Rub on feet or chest before exercising to uplift and inspire.
Make an invigorating shower steamer by adding R.C. to a base of baking soda and citric acid.
R.C. essential oil was one of the first blends that D. Gary Young formulated over 20 years ago to meet a need that was presented to him. This oil has been a staple for millions of homes since its introduction into the Young Living product line up.
If you love the R.C. essential oil blend you will also love the Eucalyptus single oils as well as Raven essential oil blend and the Breathe Again Roll-On.
Interested? Give me a shout for even more ways to use these great oils!


*These statements have not been evaluated by the Food and Drug Administration. This product is not intended to diagnose, treat, cure or prevent any disease.