Young Living Income Disclosure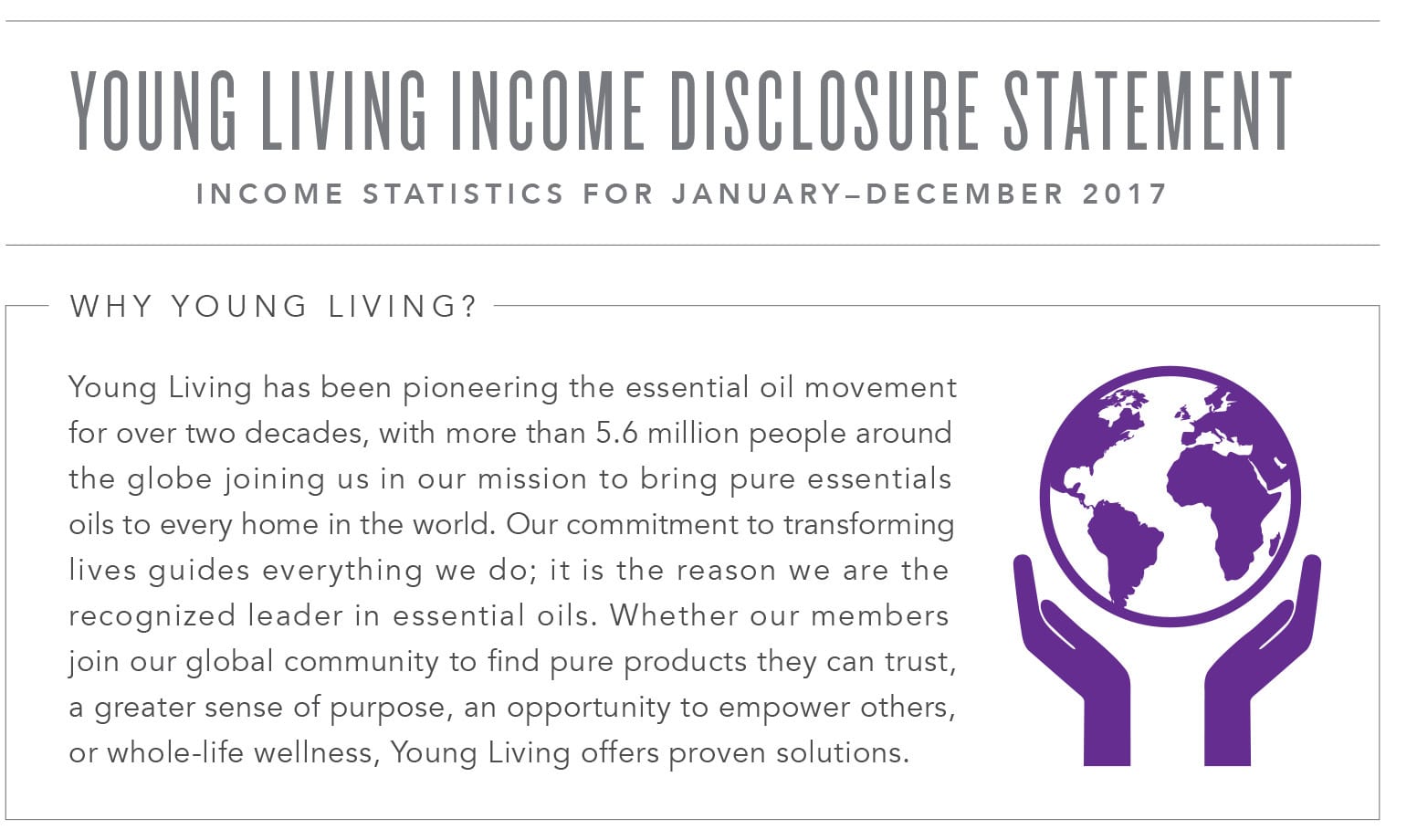 The truth about Young Living distributor income
Although each Network Marketing company is different, you can read more here as to why Young Living is so unique in how it is structured.
Oftentimes people wonder how much money you can make with Young Living. This post is about the 2017 Young Living Income Disclosure Statement and what it means.  These reports are generated from tax documents filed with the US government, not internally made stats.
The majority of Young Living members (roughly 90%) are Preferred Customers. This means that they are using their membership to purchase items from Young Living and are not focusing their time on being a Business Builder. The stats below focus on the 10% that do run a business through Young Living.
Preferred Customers
Nearly 90% of Young Living members are Preferred Customers.  This means they have access to ordering YL products at 24% off retail and are never required to teach classes or start a YL business.   At any time they can choose to share their love of YL and start their journey of Wellness, Purpose and Abundance with a YL business!
Star to Executive
Of the 10% of Young Living members that pursue the business, 63% of them are ranked Star, Senior Star or Executive.  These members are building the foundation to a long-lasting business. Reaching the rank of Executive is a big accomplishment and they average $500 a month in income (that's $6,000 a year!)
Silver, Gold and Platinum
When you achieve the rank of Silver, Gold and Platinum you are among the leaders within the Young Living organization! Builders here make up 3% of business-pursing members. At these ranks you become eligible to earn all-expenses paid trips to the Mona Farm in Utah (Silvers), Spokane, WA/St. Maries Farm, Idaho (Gold) and Guayaquil, Ecuador (Platinum)  And on average these builders are making $25,000 (Silver), $67,000 (Gold) and $166,000 (Platinum) per year!
Diamond to RCD
At the rank of Diamond+ you are among the top 1% of Young Living leaders. They are the movers, shakers and motivators for the thousands of builders looking up to them. As of July of 2018 there were 140 Diamond leaders, 31 Crown Diamond leaders and 34 Royal Crown Diamonds. Each year, these leaders are making on average $424,000 (Diamonds), $773,000 (Crown) and $1.7mil (Royal).
So what's your story?
If you're considering starting a business with Young Living, but aren't sure about the structure or reality of making "this kind of money" (Remember these numbers have been directly take from #s filed with the IRS). Just think about this: What other company offers you the opportunity to go from 0-$176k in less than 6 years working and often working less than 40 hours per week?