Dress up your drinks: Make DIY ice cubes with essential oils
Want to get creative in the kitchen (kids are invited too), play with flavors and styling, and feel fancy to boot? Dress up your drinks with ice cubes infused with essential oils! With a mix of herbs and fruit, you'll get ice cubes that taste nice and look even nicer. As they melt, they add subtle flavor to your beverages, make a gorgeous statement with little effort, and lend that little extra something every party or snack time needs.
So start whipping up some culinary creations that are as striking as they are scrumptious. Cheers to you!
YL tip: Each of these recipes is made for a standard ice cube tray containing twelve 1-ounce molds. Does your ice cube tray have fourteen molds? No worries—just add a little more of each ingredient to the mix. After you fill up your molds, is there a sliver of space left at the top? No stress—just add a bit more water. Not getting quite enough or maybe a little too much essential oil flavor? You're the chef—do what makes your taste buds sing!
Most importantly, make it yours and have fun!
For inviting and Insta-worthy ice cubes
If you've got the time, you can achieve a crystal-clear ice cube—perfect for showing off all the fruits and herbs inside. Bring distilled water to a boil, let sit for 30 minutes, bring to a boil again, let cool down, and pour into an ice cube tray. The boiling helps get rid of impurities and air bubbles for clear ice.
Now that you've got the look down, master the most delectable ice cubes ever:
 Use any Vitality™ essential oils to concoct your own culinary creations.
Add essential oils to something that will help their flavor disperse, such as fruit or puree, since oil and water don't combine well.
Mix and match fresh fruits and vegetables, herbs, and edible flowers.
Try mashing and pureeing fruit and herbs for different flavor bursts.
Include NingXia Red® or fruit juice for an even sweeter treat.
Lemon-lime ice cubes
Do you know anyone who can resist the sharp, bright tastes of lemon and lime? We don't! That's why these ice cubes, with their thirst-quenching flavor, are a hit at summer get-togethers. Whether adult friends are headed over for a movie marathon or kiddos are running around avoiding the bunk beds, no one will turn down a drink of citrus flair as they party the night away!
Ingredients
Instructions
1. Cut the lemon and lime into six pieces each and squeeze the juice from each wedge into a bowl. After the juice is squeezed out, drop the wedges into the bowl.
2. Add essential oils to the bowl. Mix well to combine the juice with the oil and cover the fruit.
3. Place a lemon or lime wedge in each ice cube mold.
4. Cover with water and freeze.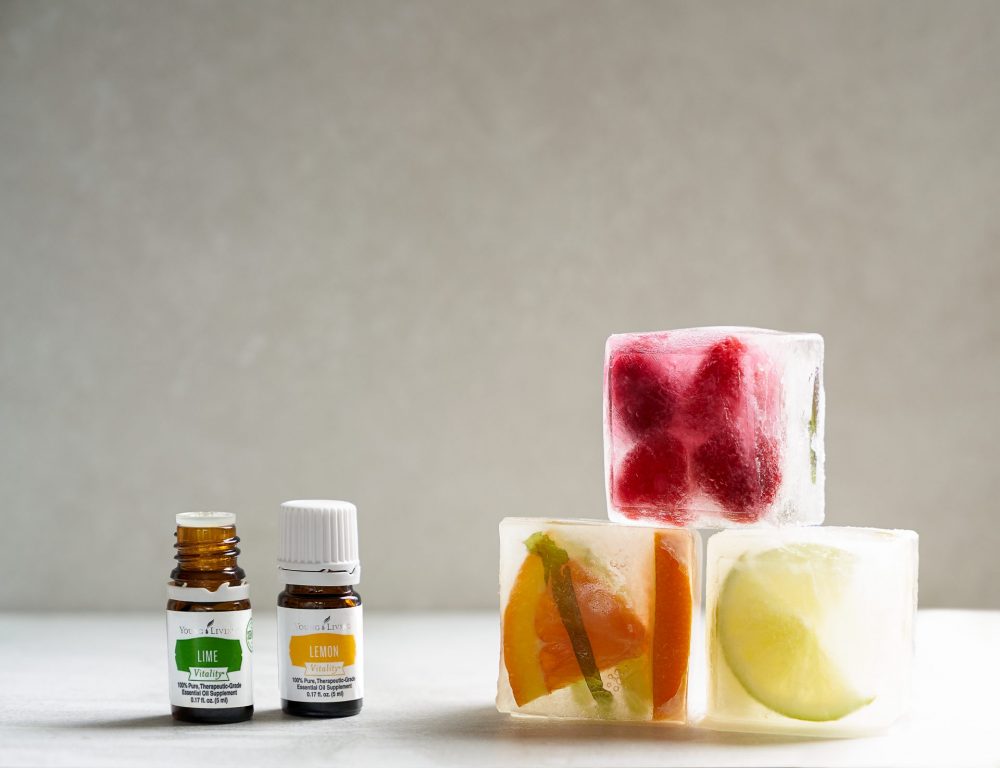 Lavender-peach ice cubes
If tea time isn't a habit in your home, it should be! Who doesn't love a scrumptious snack at 2 p.m.? Whip up some mini sandwiches, grab your favorite cookies, and fill up a pitcher with your favorite iced tea or lemonade and these gorgeous ice cubes. With an elegant touch of lavender and lots of luscious peach, any old Tuesday afternoon will become the highlight of your week.
Ingredients
Instructions
1.  After your peach is peeled and pureed, add essential oil and mix well.
2. Evenly disperse lavender sprigs among the ice cube molds.
3. Mix the peach/oil mixture with water and pour into molds.
4. Freeze.
Raspberry-rosemary ice cubes
Why can't every sweltering day come with an icy blue pool to jump into? No fuss—we've got the next-best thing! The next time the temperatures soar, grab some raspberries and rosemary (bonus points if they come from your summer garden) and make these ice cubes. Just a little herby with a dash of sweet, this mouthwatering ice will turn any punch or juice into a summer staple!
Ingredients
Instructions
1. Put raspberries and essential oil in a bowl and mix well to cover the fruit with oil.
2. Evenly disperse the raspberries and rosemary springs among the ice cube molds.
3. Cover with water and freeze.
Grapefruit ice cubes
The next time you throw a backyard bash or porch party, invite grapefruit to the mix! Tart, sweet, and always inviting, these ice cubes are just the trick to jazzing up any ginger ale or seltzer. As guests hang around and chat, soaking in the good company and pleasant weather, the one thing they won't forget at the end of the night is these beautiful, delectable grapefruit-infused ice cubes.
Ingredients
Instructions
1. After your grapefruit is zested and peeled, cut it into small pieces. Place 12 pieces into a bowl. If you have more than 12 ice cube molds to fill, use enough grapefruit pieces to fill your molds.
2. Add essential oil and mix well to cover the fruit with the oil.
3. Place a pinch of zest in the bottom of each ice cube mold and top with a piece of grapefruit.
4. Cover with water and freeze.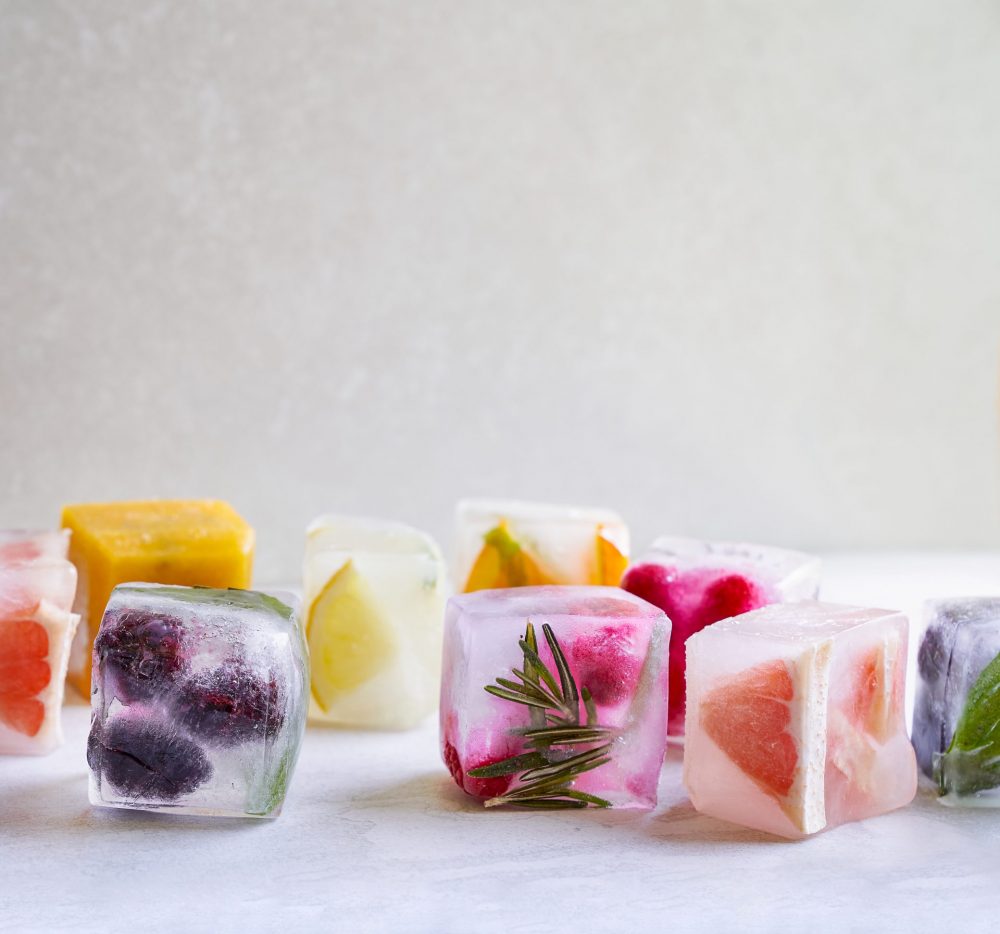 Blackberry-basil ice cubes
Take your next soiree from simple and nice to sophisticated and cool with one thing: fancy drinks! When guests see mocktails and drinks waiting for them, dressed up with blackberry and basil ice cubes, they'll be giddy over an invite to such a fancy party. Don't forget a swinging playlist and some mood lighting for good measure.
Ingredients
Instructions
1. Add half the blackberries to a bowl. Use a muddler, potato masher, or fork to partially smash the blackberries.
2. Add a few drops of essential oil and mix well. (In this recipe, we recommend you start with 3 drops and work your way up to 12 since Basil Vitality has a very strong flavor.)
3. Evenly disperse the other half of the blackberries into your ice cube molds.
4. Combine the muddled-blackberry/oil mixture with water and pour into molds.
5. Freeze.
Orange-mint ice cubes
The only thing to make an exquisite meal better is to follow with a decadent dessert! After you've dined, add these citrusy, minty ice cubes to sparkling water and pair with a chocolate treat. Trust us when we say nothing makes a better combo than the tempting tastes of chocolate, orange, and mint.
Ingredients
Instructions
1.  Add the mint leaves to a bowl. Use a muddler, potato masher, or fork to partially mash up the mint leaves.
2. Add essential oils and mix well.
3. Place a piece of orange and a spoonful of the mint/oil mixture into each ice cube mold.
4. Cover with water and freeze.