Orange-Infused Chocolate Pots Recipe
Fall and winter are the best time to cozy up, and our Orange Infused Chocolate Pots are the perfect reason to get comfortable inside. This decadent dessert is chic yet simple, so you can impress dinner guests or yourself with its rich, chocolaty flavor. Plus, the bright taste of orange perfectly pairs with the season's flavors. The best part? You probably have most of the ingredients in your pantry right now! Get cooking and see why this recipe is sure to become a family favorite.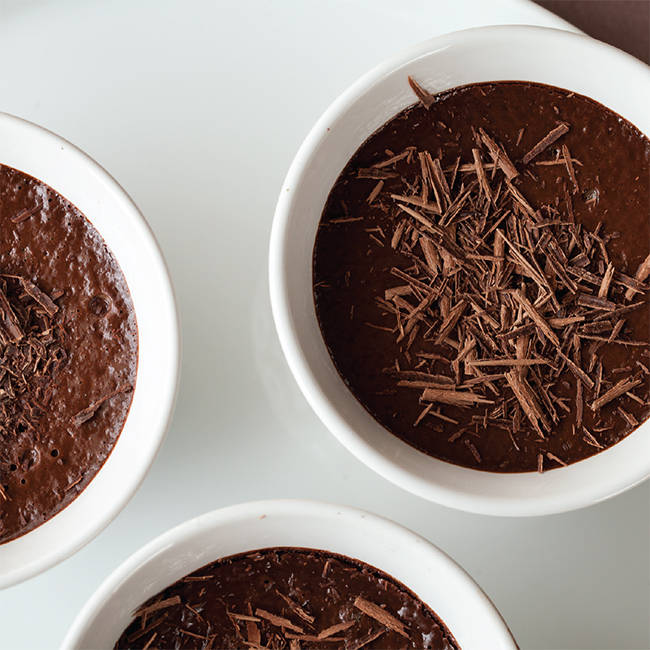 Orange Chocolate Pot Recipe
Ingredients
6 oz. bittersweet chocolate, finely chopped
1 cup coconut milk
1 tablespoon coconut oil
2 tablespoons coconut sugar
Pinch of sea salt
2 large eggs, room temperature
2 tablespoons orange juice, freshly squeezed
4 drops Orange Vitality™ essential oil
Additional chocolate, shaved (for garnish)
Instructions
Place the chopped chocolate in a blender.
Combine eggs, orange juice, and Orange Vitality essential oil in a small dish. Set aside.
In a saucepan, combine the coconut milk, coconut oil, coconut sugar, and salt. Heat over medium-low heat, whisking continually, until the mixture reaches a simmer.
Immediately pour the coconut milk mixture over the chocolate in the blender and blend on high until combined.
As the blender runs, pour the egg mixture through the hole in the top of the blender. Continue blending until creamy and smooth.
Divide the chocolate mixture between four ramekins or small cups and refrigerate until set, about 2 hours.
Serve cold with shaved chocolate on top, if desired.
https://www.youngliving.com/blog/orange-infused-chocolate-pots-recipe/
COPYRIGHT (C) 2016 – ALL RIGHTS RESERVED – YOUNG LIVING
What's your favorite way to use Vitality oils in your fall and winter cooking? Tell us in the comments below!